"Project Integrum"
Traditional innovative-drug development based on the mechanism of action (MOA) and experience is highly difficult. The targets with a potential for development of antibody drugs far outnumber the targets developed in the past decade, while the targets covered by existing clinical phase pipelines and commercialized drugs are highly concentrated due to the low success rate of drug development, thus pharmaceutical companies are facing stiff competition in drug development and commercialization. Therefore, Biocytogen, following the principle to "begin with the end in mind", initiated "Project Integrum" in March 2020, marking an important milestone in Biocytogen's large-scale development of antibody drugs. The goal is to knock out thousands of potential target genes of antibody drugs one by one in the fully human antibody mice, RenMice, over three to five years and develop therapeutic antibody drugs using these gene knockout mice. This project identifies fully human antibodies based upon species of cross-reactivity against potentially druggable targets, which are then screened and validated for efficacy in vivo in animals with multiple genetic backgrounds, improving the success rate of clinical transition and greatly advancing the research and development.
Key points of the project
 Complete knockout (non-lethal knockout) of more than 1,000 target genes in RenMice
 Complete antibody preparation for more than 1,000 targets with target KO RenMice
 Screen for antibodies with similar affinity to targets in multiple species by means of multi-species antigen cross-immunization
 Identify the antibody with the best efficacy using in vivo screening for drug efficacy in mice
 Further validate targets and antibody molecules effective for mice in large animals with spontaneous diseases, with about one to two antibody molecules per target
 Further submit an antibody IND application for candidate antibody drugs effective in large animals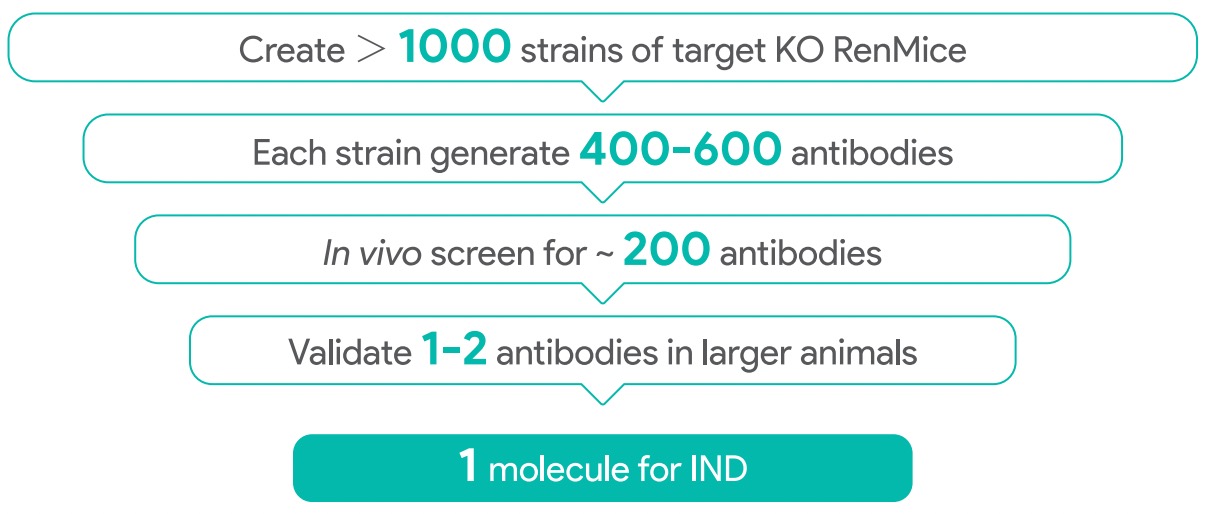 Project progress
Drug targets in "Project Integrum" cover many diseases including diabetes, osteoporosis, tumors, autoimmune diseases and inflammation. To date, we have completed the preparation of RenMice with over 1,000 target genes knocked out in "Project Integrum", with more than 600+targets in the antibody discovery stage and PCC molecules obtained for 20+ targets. We plan to complete drug development for more than 1,000 potential druggable targets in the next three to five years, establishing Biocytogen as the original source of new drugs with our numerous partners from all over the world.
The five antibody technology platforms derived from RenMice and the large number of antibody molecules produced in Project Integrum will help us and our partners expand to other drug forms, such as bispecific antibodies, bispecific ADCs, oncolytic viruses, cell therapy, and gene therapy.
For more information, please visit:https://renmab.com
Cooperation models and some partners:
"Project Integrum" is an open, cooperative project designed to achieve new drug development together with partners through innovation of technologies and ideas in flexible cooperation models.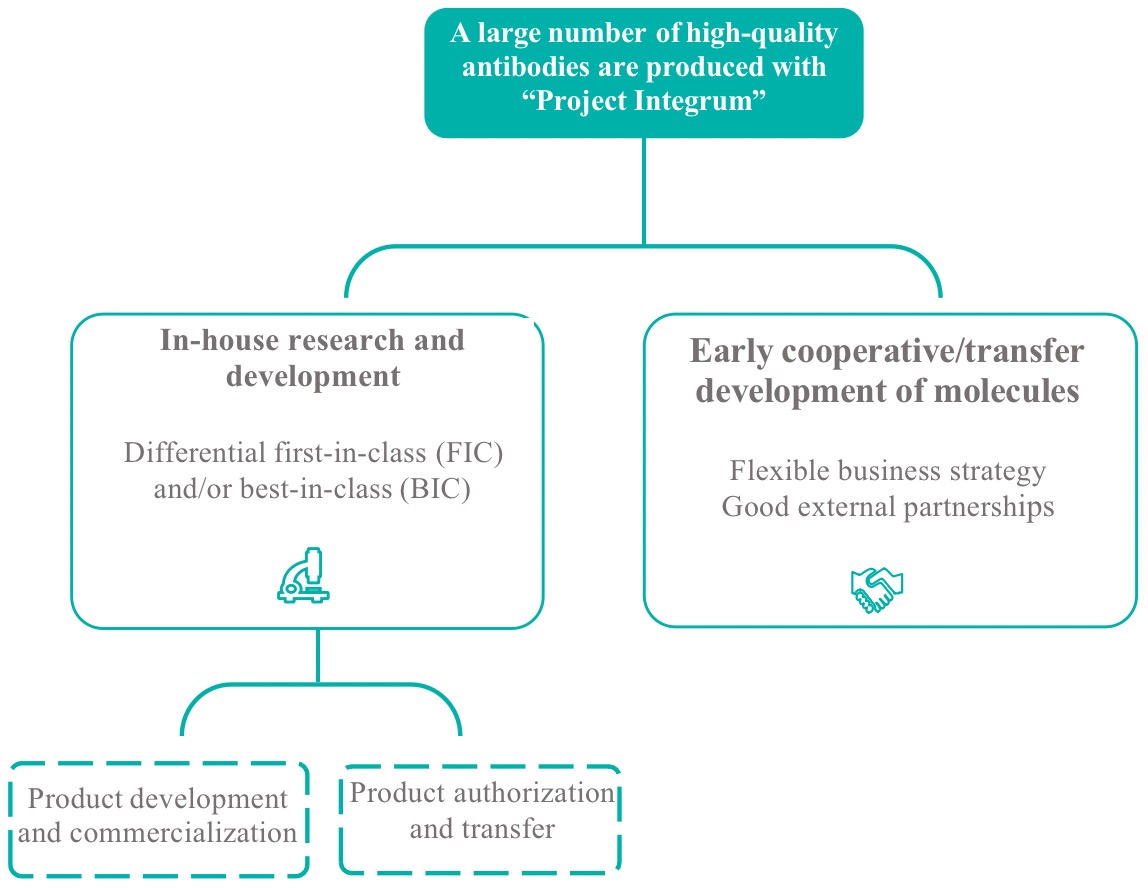 With "Project Integrum", we have entered into 34 cooperative drug development agreements with 21 domestic and overseas partners including Merck, RemeGen, etc.

Related news
Biocytogen Enters into Antibody Agreement with Merck
Biocytogen and LiberoThera Achieve Milestone Progress in Co-Development of Fully Human GPCR Antibody Drugs
Biocytogen Enters Agreement with CtM Bio to Co-Develop TCR-Mimic Antibody based Multi-Specific T cell Engagers
Data download
AACR 2022: Identifying New Therapeutic Antibodies Using Knockout Mice Expressing Human Immunoglobulin Variable Domain Genes
AACR 2023: The RenMice HiTS (Hyperimmune Target Specific) Platform Facilitates Identification of Novel Therapeutic Antibodies for Challenging Targets